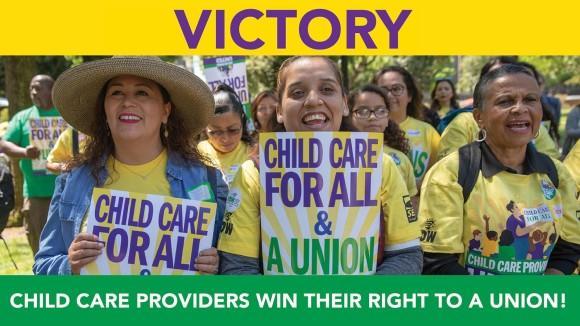 Childcare providers give working parents the assurance that their children will be taken care of while they earn a living. However, they continue their invaluable work without the proper representation of an organization which will look out for their needs. AB 378, authored by Assemblymember Monique Límon, addresses the need for childcare providers to have representation at the bargaining table. As Californians, we entrust childcare providers with the future of our country. It is time that we treat them with the dignity and respect they deserve by honoring their right to dutiful representation. 
United Domestic Workers and SEIU co-sponsored AB 378 which authorizes family childcare providers the ability to form, join, and participate in the activities of a representative organization. This will allow childcare providers who receive subsidies from the state of California to have a union collectively bargain with the state over wages and benefits, and to advocate on behalf of themselves and the families and children they serve. By empowering childcare providers, we are making an important investment in our state's future, and we are ensuring that working families are provided economic and social stability regarding their children's care. 
The bill was signed into law by Governor Newsom on September 30th.