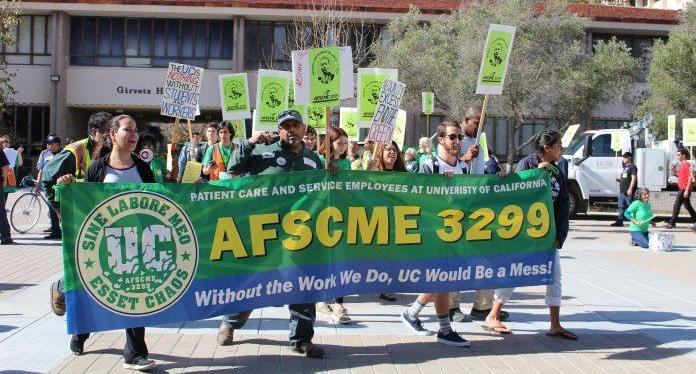 Sponsored by AFSCME Local 3299 University of California (UC) employees and authored by Assemblymember Lorena Gonzalez, ACA 14 proposes a California constitutional amendment to be approved by California voters in the 2020 election. The amendment requires the Regents of the UC to ensure that all contract workers who are paid to perform support services are afforded the same equal employment opportunity standards as university employees performing similar services.  
The UC system employs over 190,000 faculty and staff who provide services to more than 238,000 students currently attending.  The staff include workers employed in positions outside the scope of academia, performing support services on campuses, dining halls, medical centers, research laboratories and other locations across the UC system.  These employees provide valuable services which are essential to the function of each University of California institution.   
Unfortunately, University of California has outsourced an estimated 7,000 support jobs to contract workers who are not provided the same benefits as employees.  Contract workers receive lower compensation and inferior benefits, receiving $3.86 less than university employees. This disparity has allowed the UC system to increase its administrative payroll by $64 million despite cuts to services.  
The more than 26,000 UC employees that AFSCME represents are invaluable in the operation of the University of California education system. Replacing these workers with contracted labor is both unfair and unnecessary. 
The bill passed the Assembly by a two-thirds vote but did not receive the two-thirds vote in the Senate needed to be placed on the 2020 ballot.